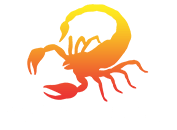 I know I needed to get out of the shape of round.
I knew I couldn't get out of that shape and into a healthier body style by myself.
I met Jerry and Dr. Barb and in 4 months I've lost 8 pounds and 1 1/2" off my waist. I feel great and I know its all because of Scorpion Gym.
I'm a believer in the fact you only get out of it what you put into it. I'm getting a lot out of Scorpion. I'm a Scorpion for Life!